Orville's post over at Kansas City Catholic,
Before You Break Out That Champagne
, on the contemptible little 50th Anniversary magazine put out by the
Catholic Key,
is a good one. There's so much to say about the last 50 years of the Missouri diocese, and about the mag, that we're going to work together on it, and I'm going to start by adding a little bit to Orville's initial numerical observations, which are based in on data published in the magazine itself.
Now, numbers aren't everything of course. We're constantly reminded by those who would argue for the necessity of Vatican II and everything that followed from it that it's the qualitative measures that matter--
people are living their faith much more fully
that before. We'll consider that proposition in our future posts on the actual content of the publication. But for now, let's just look at some charts I made in Excel yesterday afternoon. Some of these may be posted by Orville at as well:
First, the Catholic population: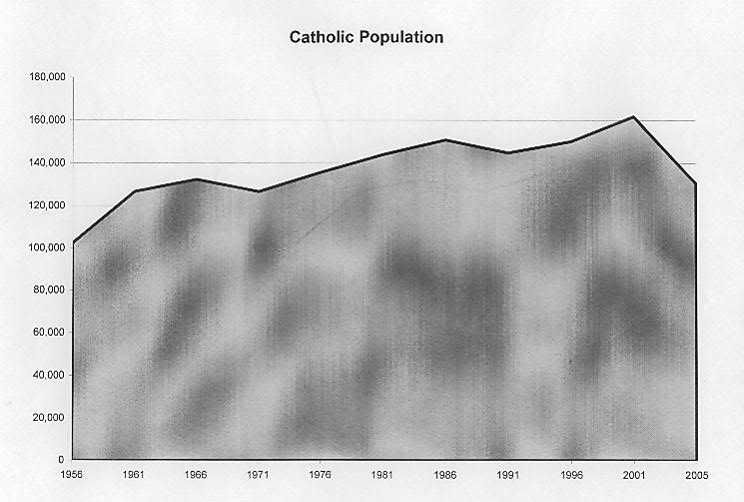 Hmm. A pretty slow increase. How does this compare to the total population of the Diocese? That information is necessary to tell whether there is a real increase or a real decrease in the number of people who bother to register at a parish, won't it? As for the decline from 2001 to 2005 (over 30,000 people), I have to ask what happened? Did Bp. Finn really drive off 30,000 souls in less than a year as our ordinary? Somehow I doubt it, don't you? Maybe certain pastors in larger parishes were sandbagging before, so the numbers wouldn't look bad in Bp. Boland's days, but are trying to make Finn look bad now? Maybe Bp. Finn has insisted on a more accurate count? Maybe Finn is adjusting the numbers down so as to lower the money he has to send to Skylstad and Wuerl and the corrupt, vile USCCB?
Now for the decline in priests: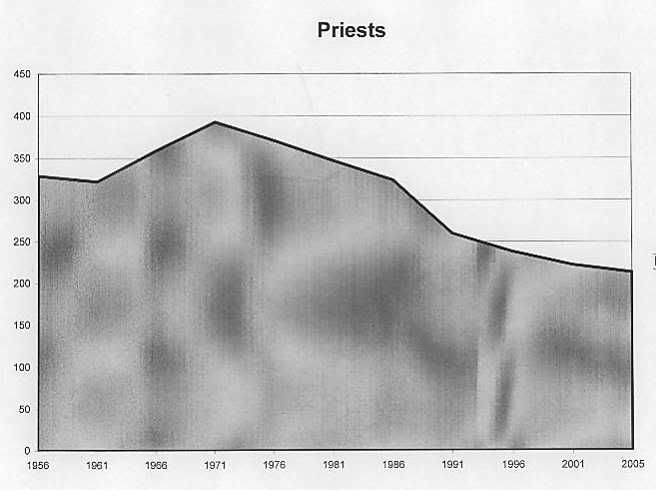 Theres a decline from 393 priests in 1971 to 213 in 2005. Hmm. Anyone notice that there was a bump in priests during the second Vatican Council? What happened? As to the increase, one hypothesis to this may be that lots of young men were entering the priesthood, without real vocations or uncommitted to celibacy, but lured by the progressive forces in the diocese into thinking that the priesthood is about to become something totally different and oh-so-much-cooler-than-it-used-to-be? How did that little spurt pan out? Note that the beginning decline in priests coincides almost exactly with the introduction of Bugnini's
novus ordo
Mass. Surely a coincidence, eh?
Now for the decline in religious sisters and brothers:
Their degeneration started earlier than the priests' decline, from a peak of almost 1200 in 1961 to less than 300 now. Of course, the
aggiornamento
started among religious communities well before we got the introduction of the
novus ordo
, didn't it?
Just to drive home the point, let's look at the trend in total religious vocations (priests, nuns, brothers):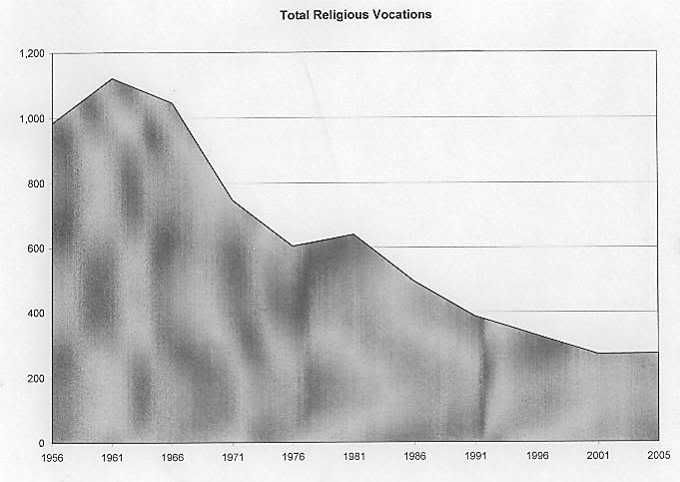 We've seen a drop from one religious vocation for every 74 Catholics in 1956 to one religious vocation for every 249 Catholics in 2005 (granted, it's up from one in 308 Catholics in 2001, with the relative improvement in the ratio actually due to a decrease in the Catholic population which outpaced the decrease in vocations. What an improvement!).
Now for education. One would expect a growth in schools in response to Vatican II's call for a New Evangelization, right?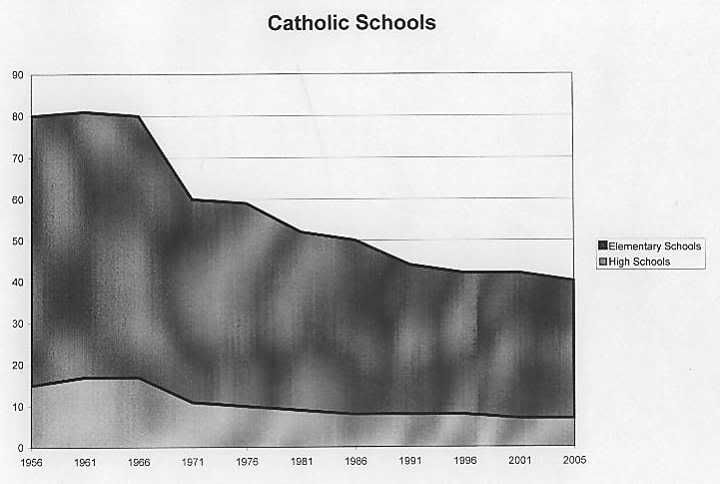 Um, yeah. The drop from 65 elementary schools and 15 secondary schools in 1956 to 33 elementary schools and 7 secondary schools in 2005 is a sure sign of the New Springtime!
On that note, what I'd like to know is the number of children (and the percentage of children) in Catholic schools, and also how much of an increase there was (in constant dollars) in Catholic school tuition (a factor very much related into the religious vocations data above).
Finally (for now), let's look at a statistic I derived from the raw data given to us by the
Key:
child baptisms per Catholic: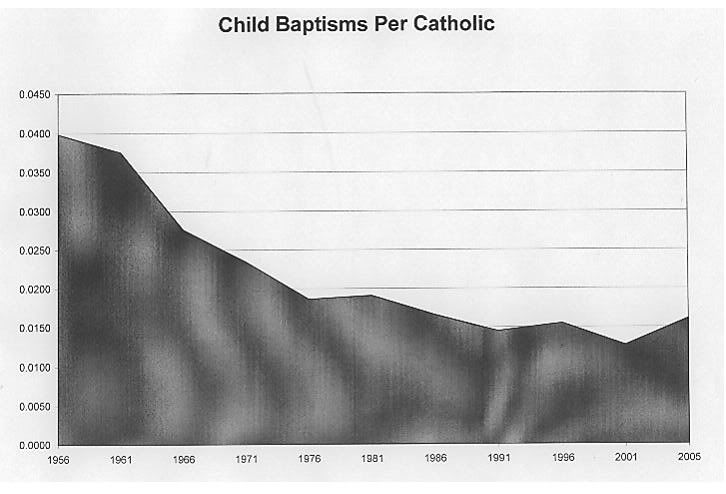 There were almost 0.040 child baptisms per Catholic in 1956 (that's one new bambino for every 25 Catholics), but only 0.016 child baptisms per Catholic in 2005 (one for every 62 Catholics). Granted, we're up from a low point of 0.013 baptisms in 2001 (one for every 79 Catholics, due both to a smaller base of Catholics and to more breeding among those that remained). But what were we saying about how postconciliar Catholics are living their faith much more fully than before? How does this square with
Humanae Vitae
?
We're skipping over "adult baptisms" for now, because they adulterated the data set in the contemptible little mag by adding in conversions from the heretical sects beginning in 1986. That data set isn't useful unless we add conversions prior to 1986 or pull out conversions from 1986 forward. In either case, it seems that the flat line we would see for new adult Catholics would become a downward slope. And, of course, that's not to speak to the quality of instruction those adults have received or how many subsequently left the Church when they found out--long after RCIA--that Catholic faith didn't comport with their protestant lifestyle.
There's more to come, folks, and we'll update this if and when we get good total population data (and while we're at it, if we get additional data on other things--declarations of marital nullity, for instance). But that's enough to digest in one sitting, now, isn't it?